Freeware
(and we mean FREE - no ads, no nags, no bull)
Specialty Tagging Software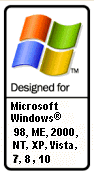 Tag Clinic v4.3
A full-featured tag editor and batch file renamer for digital audio files.
Supporting

.

aac,.ape, .flac, .m4a, .mp3, .mp4, .mpc, .ogg, .vqf, and .wma

tags.
---
Real-time tag editor creates tag data by extracting it from file names, file paths, or via download. Batch-renames files using existing tag data or data you create, with a straightforward interface that allows the quick creation of reusable naming templates. Rename a single file, selected files, or multiple folders of files. Preview and edit new names before they're applied, and undo changes if you change your mind.
Tag Clinic converts tags between versions, auto-fills them, swaps text between fields, or creates one type of tag using data from another. Choose which tag fields to make visible and in what order they appear. Drag rows around to create the exact playlist order you want, or drag columns around to get the view you need. Supports Find, Find All, and Find & Replace. Prints tags and saves tag lists to six different file formats.
Downloads song lyrics, and creates custom capitalization schemes with the multi-function Capitalization Editor. Backup and restore tags to and from
CSV or MS Excel

® files, or drag in spreadsheet data to be added to your tags. You can store album art or even other files directly in your tags for safe-keeping and for one-click access. View, store, extract, rearrange, or remove pictures or other objects. Copy and paste them, or move them around, just as easily as text.

Tag Clinic features the most comprehensive support available of tag types and tag fields, providing access to many fields rarely supported. "Quickload Mode" restores tag library views from a database file in much less time than it takes to reread tags. Integrated browser supports Drag & Drop.

Need to support non-English languages? You may prefer the Unicode version (a bit slower loading tags than the standard version).
---
Tag Backup & Restore v1.1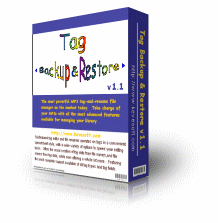 Audio tag archiver and editor.
---
If you're a serious audiophile you've invested considerable time and effort in your tags. The information they contain often comes from diverse, hard-to-locate sources and can be more troublesome to replace than the music itself. Tag Backup & Restore protects your investment by backing up your tags to any one of three possible archive types: 1) Access 2000®, 2) MS Excel® Worksheet, and 3) Delimited Text. Once archived, you have full control over what to restore. Recreate a single tag or single tag field, or restore a whole library of tags at one time. TBR is built upon an excellent real-time tag editor and batch file renamer, too.
Supports .aac, .ape, .flac, .m4a, .mp3, .mp4, .mpc, .ogg, .vqf, and .wma tags.
Backup Types Supported
MS Access 2000 database file (.mdb): Unicode backup of text and binary fields, including pictures and objects. Backs up multiple instances of tag fields that support multiples (comments, pictures, etc). Includes backup of sub-field tag data, such as language and description information. Simple text fields limited to 255 characters.

MS Excel Worksheet file (.xls): Unicode backup of text fields. Text storage length limited by length of cell text accepted by worksheet. Permits editing of tags in Excel and importation of changes.

Delimited Text file (.csr): UTF-8 backup of text fields. No limitation on length of text.

When you're not backing up or restoring, TBR doubles as a first-class tag editor and file renamer. Support features include Find, Find All, Find & Replace. You can print your tags, or save them to multiple file formats. Choose which tag fields to make visible and in what order they appear.
Store album art, artist scans, and other files in tags for safe-keeping and one-click access. View, store, extract, rearrange, or remove pictures and other objects. Copy or paste them, or move them around from tag to tag.
---
HTML-2-Text v1.1
A handy little html-to-text converter.
Supporting .html, .htm, and .txt files.
---
Just a little utility for those who sometimes need to copy html text from a Web page into a text document, or even convert entire Web pages into text documents. If you've ever attempted these maneuvers, you know that html text usually copies over into a text document as one or more long, cumbersome lines filled with tags, symbols, and other unneeded bother. You typically have to spend a lot of time cleaning it up, removing unnecessary information, adding line breaks, etc., before it looks right on a regular text page.
This little utility does much of this for you. It places an icon on your desktop onto which you can drop an html file to have it automatically converted into a text document by the same name. It removes html tags, adjusts line feeds, and quickly reformats the text. The text is then placed into a new file, in the same location, but with a ".txt" file extension.
Alternatively, you can use the utility to reformat html text that's in the Clipboard. Simply copy any html-laden text into the Clipboard, double-click the program's desktop icon, and the contents are instantly converted and made available for pasting out again as plain text.
Included is a small Settings Utility that lets you set margins and adjust a few other helpful options.

Copyright 2000-2022 Keve Zoller